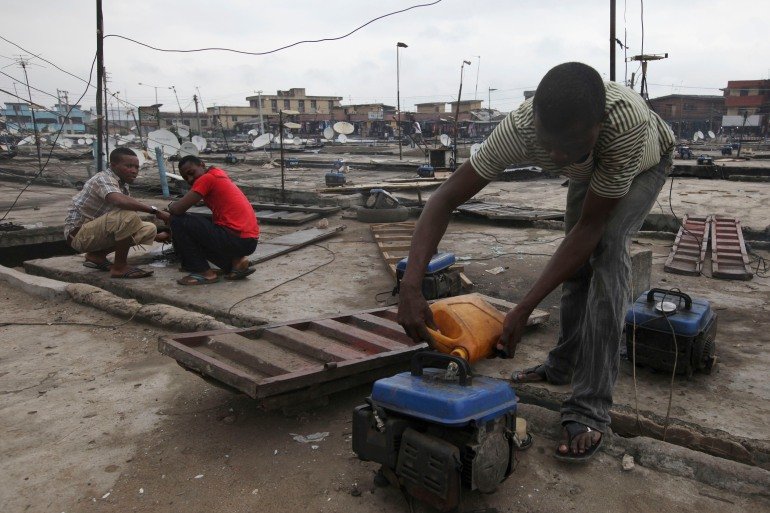 For Mustapha Arinakore, life as a tricycle rider plying his trade in the central Nigerian city of Ilorin depends largely on petrol. But getting the fuel he needs to power his tricycle has become a rather difficult task in recent weeks because of a continuing scarcity nationwide.
Unable to call in favours from fuel attendants and finding it hard to stay in a queue for several hours, he has turned to the black market. There, a litre goes for 500 naira ($1.20) instead of the official price of 165 naira ($0.40) and that squeezes his tiny profit margins even further.
"We buy at an exorbitant rate and it is almost impossible to increase the fares because most of the passengers cannot afford it," said Arinakore who told Al Jazeera that he got his tricycle on hire purchase and therefore has to meet his daily payment.
When he is lucky to find a petrol station selling, he must pay a series of bribes; first to those manning the gates and then to those operating the nozzle
Nigeria, Africa's largest oil producer and one of the world's largest exporters, has barely any refining capacity for the estimated 1.6 billion barrels it produces daily. Its colonial-era refineries are in a moribund state, leaving the country with no choice but to export its crude oil and import refined petroleum products for daily use. Subsidies, amounting to billions of naira, are paid to fuel importers to make this happen.
Too often, the dynamic is upset and fuel scarcity ensues every other year – for decades – and sometimes lasts for months. Since early February, another episode has been under way, causing endless frustration once again for Nigerians.
A statement by the regulatory authority specified that the current shortage is due to the discovery of 100 million litres of imported petrol in the supply chain with "methanol quantities above Nigeria's specifications", leading to an emergency withdrawal of unnamed volumes of the product.
The consequences have been manifold. Across the country, millions of people are spending hours daily on queues jostling for the meagre fuel in circulation. According to local media, 136 vehicle engines were reported as damaged by the contaminated fuel in the first week of February alone.
Source: Al Jazeera