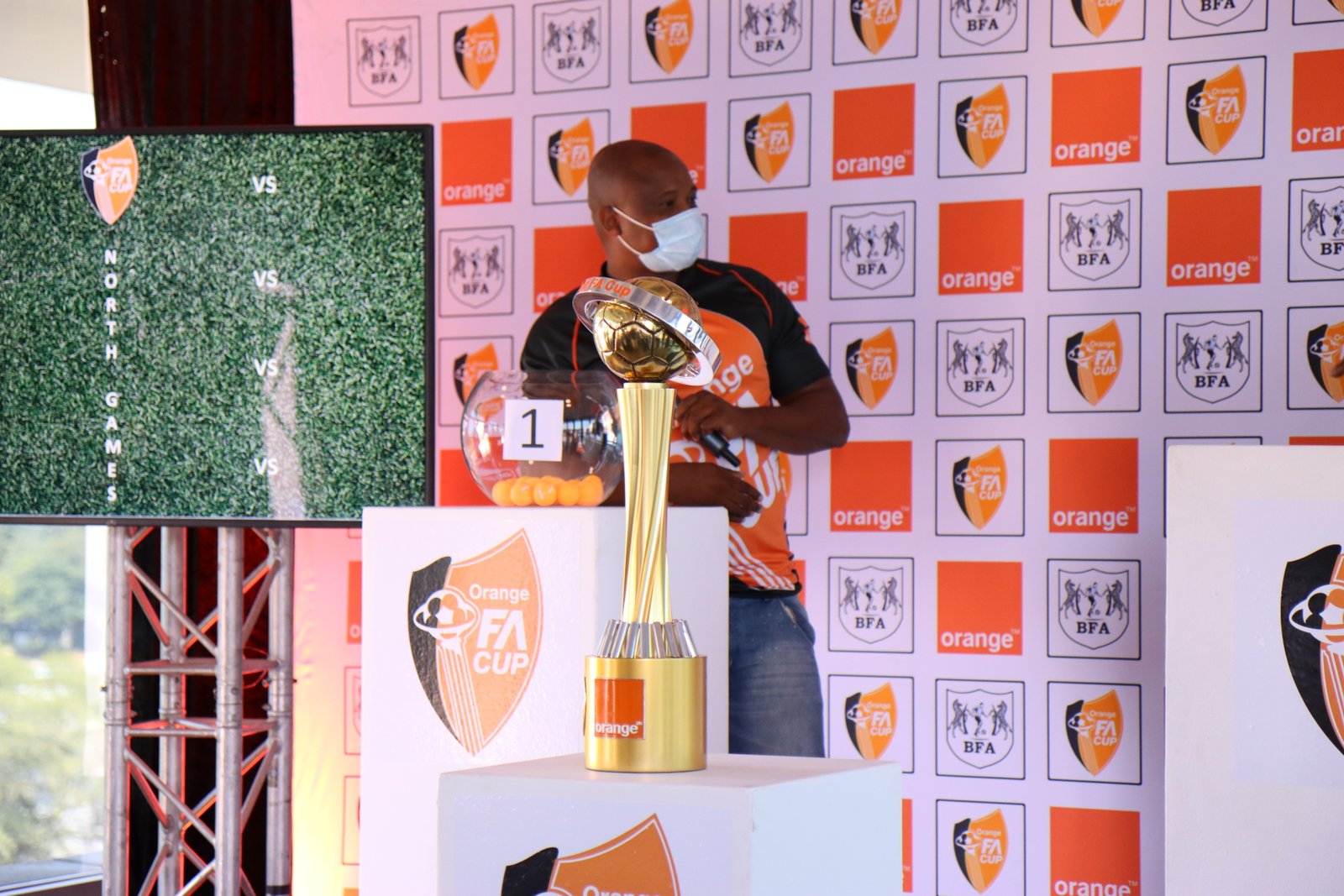 Orange Botswana in partnership with the Botswana Football Association (BFA) launch third season of the Orange FA Cup
48 teams nationwide to battle it out for the coveted cup
Orange Botswana in partnership with the Botswana Football Association (BFA) launched the third season of the Orange FA Cup on the 9th of February 2022, at the Orange Botswana headquarters rooftop.
The new season was launched through a draw, which featured football legend Jarome Ramatlhakwane as the officiator. The 32 teams drawn consisted of 16 teams from the first division* (8 north and 8 south) and 16 from the regional teams (8 north and 8 south).
Orange Botswana firmly believes that the Orange FA Cup is a great chance for upcoming teams to gain exposure as well as skill development as they go head-to-head with teams that are more advanced. The tournament will commence in the north, with the first games being played on the 24th – 26th of February. The south games will follow soon after from the 4th – 6th of March.
Said Gazza Motswagole, Orange Botswana Director, Orange Money Commercial & Operations, "We look forward to an incredible and thrilling season 3, as we have just witnessed the fascinating draw of the Last 48 Round of the Orange FA Cup 2022/2023 edition. The beauty of the Orange FA Cup is that it is involving, inclusive and the only local football tournament that affords lower division teams the opportunity to lock horns with the giants."
The tournament fixtures are as follows:
North Games
Tsabotlhe FC vs Sankoyo Bushbucks FC
Chadibe FC vs Chobe United FC
BIUST All Stars FC vs Boston FC
Calendar Stars FC vs Motlakase Power Dynamos FC
Maun Heroes FC vs Eleven Angels FC
Sua Flamingoes FC vs Santa Green FC
Pearisa FC vs Nico United FC
Peace Makers SC vs. Maun Terrors SC
South Games
Mogoditshane Fighters FC vs Skoon Boys SC
Broadhurst United FC vs Kgabosetso FC
Union Flamengo Santos FC vs Holy Ghost SC
Blackforest FC vs Tsabong SC
Mochudi Centre Chiefs FC vs Masitaoka FC
Hungry Leopards SC vs Matebele FC
Red Sparks SC vs Tlokweng FC
Motaung Young Fighters FC vs Lokgwabe United FC
"As Orange Botswana we are indeed committed to growing the local football. Orange has been in this space for quite some time, dating back to the days when we were sponsoring the Kabelano Charity Cup as well as the Senior Zebras National team. It is through this commitment and our priceless partnership with the Botswana Football Association (BFA), that we are able to bring you the well celebrated local soccer tournament, the Orange FA Cup," concluded Gazza.