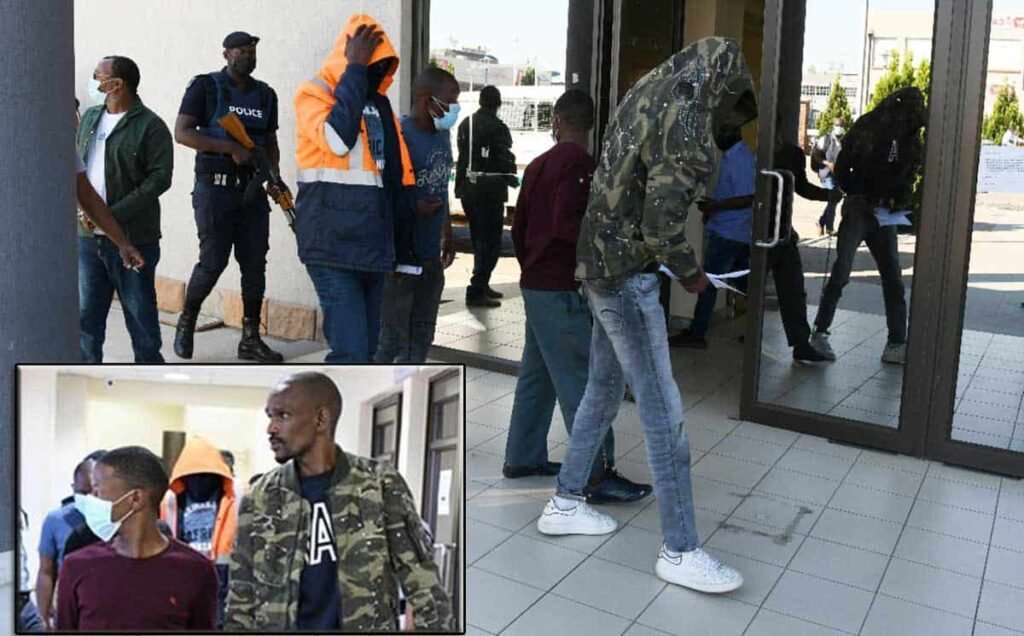 GP Weekly
The four men who are remanded at Gaborone Central Prison's notorious Cell 11 are now feeling the pangs of being denied freedom, now complaining that they cannot watch television, eat good food and be given Bibles. The complaints were heard by Broadhurst Magistrate court this week.
According to the four; Mochudi born Mothusi Matomela, 42, from Mmadinare Thapelo Lekobe,38, South Africans; Mzwandile Mazibuko and Ntholephi Ntshalintshali, they are being held at a condemned cell but denied access to watch television and have meals.
The four are accused of robbing the G4S transit car of P2.4 million daylight at Turn Right Mall in Mogoditshabe last year in October. According to information from Gaborone Central Prison, the quartet has been remanded in the infamous Cell 11 since last. The Cell 11 harbors the most serious crime suspects and the four shared a cell with former DIS chief Isaac Kgosi during his arrest last year.
While the four complained that they were at times denied food, not allowed to go for church fellowship with other and this made them to conclude they are subjected to solitary confinement even though they have never been sentenced for anything.
The Gaborone Central Prison officer in charge who appeared at Broadhurst Magistrate this week, Senior Superintendent Oganeditse Tlhako, when giving evidence for the prison department against the quartet, denied all the allegations of ill-treatment and solitary confinement. Tlhako explained that solitary confinement is meted to prisoners who commit offenses inside prison. "The accused are not in any solitary confinement, instead they are kept in a cell and that cell has a court yard. And we have kept them in a cell that will enable us to do proper monitoring because of the gravity of their offence," Tlhako said.
Last year it was alleged that four men made off with P2 310 000 and the police managed to intercept the robbers while they were in possession of P2 110 000. The men were initially five at the crime scene but one is suspected to have escaped with the missing P200 000. The fifth man is still believed to be at large and a manhunt to get him continues. The four face charges of unlawful possession of firearm and ammunition. The two South African are alleged to have entered Botswana illegally.
The four have been appearing in court since last year October after their arrest which was captured in camera. One Matomela told photojournalist during their first appearance that he should not take photos of him and he will give the photographer and his girlfriend P1 million each to show them they are useless or stupid. During the second appearance Matomela was shown on video demonstrating his karateka skills for the cameras. But this week Matomela seemed not to take anything anymore like others, the prison conditions and the cameras. The lanky Matomela covered his once brave face before cameras with his camouflage hoodie this week and was camera shy even after leaving the court after they pleaded that the prison conditions were harsh for them.