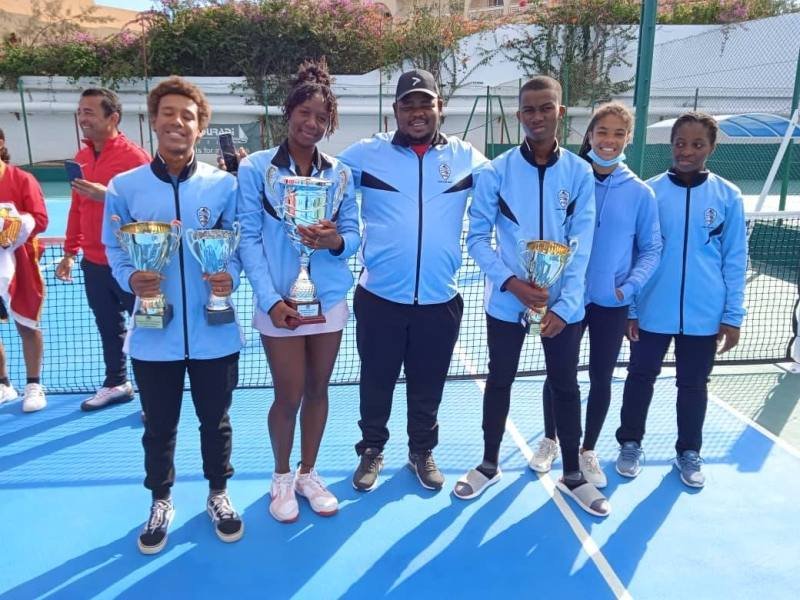 Tshegofatso Molefe
The Botswana Tennis Association partook in the under 16 games in Tunis, Tunisia where history was made. The team that was led by Coach Ernest Seleke brought home three medals, two gold medals, and one bronze medal.
Mark Nawa and Denzel Seetso participated under the category of boy's doubles and scooped position one, earning them the 2021 African Junior Championship title, after beating Algeria's Muhammad Gechou and Muhammad Ghetas 6-1, 7-5.
Meanwhile, in the girl's singles, Ekua Refilwe Youri triumphed the 2021 African Junior Championships title under the category of girl's singles. Youri advanced to the quarter-finals after defeating the number 1 seed, Rassil Ranim of Tunisia 6-1, 7-5 which gave her an advantage at the title.
In the same way, Seetso finished third at the African Junior Championships, in the boys singles, earning himself a bronze medal. Seetso climbed to the quarter-finals after beating Bouhlel Muhammad Sanad of Tunisia, 6-4, 6-1.
"Our champions are going for the grand slams next year and there is still a lot of work to be done, also there is a need for investment in the players. They are at the top of their game which is an inspiring and joyful time for local tennis." Botswana Tennis Association (BTA) president, Oaitse Thipe said.
Thipe pleads with the corporate sector to assist in funding the players, for them to reach their Grand Slam dreams; however, the performance of the three prayers is a big triumph.
The team consisted of Denzel Seetso, Mark Nawa, Ekua Refilwe Youri, Chelsea Changanyuka, and Naledi Raguin. Ekua and Chelsea participated in the girl's doubles and lost their opening match which made them not to progress to the next level. Mark also lost his first-round match in the boy's singles.
The 16 and Under African Junior Championships started on the 29th of November and ended on the 4th December 2021.