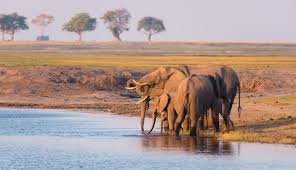 After what seemed like a notable transition to normal, the tourism sector has once again slid back to its dark red state after a new Cobid19 variant termed the "Southern African Variant" with a scientific name Omicron was discovered from 4 picked samples that are said to have been concerning.
Speaking to diplomats and other relevant stakeholders earlier this week the Minister of Environment, Natural Resources Conservation and Tourism Philda Kereng has explained that the travel ban by European and American Countries will contribute badly to the tourism sector which was on the verge of recovery. Kereng has explained that the festive season was to set a new peak after the just ended state of emergency was driving to economic recovery of the industry.
She explains that most of the bookings that were confirmed were international hence the negative impact the industry will greatly feel. Although positive that the ban will be short lived, Kereng has said that this will not help in resuscitating the industry at a rate which they wished they could.
Jan Sadek the European Union Head of Delegation to Botswana and SADC said that there is a state of panic as the new variant has not been fully investigated to know well how to curb and control it adding that the travel ban was necessary but only for a short time until everything is under control.
As at 26th November 2021, a total of 195 068 Covid19 cases and 2 418 deaths had been reported.
Giving his national address on Wednesday this week, the President of Botswana Mokgweetsi Masisi has explained before the new variant, the country was making good progress in fighting and controlling the virus. "We have been steadily witnessing a decrease in the number of new cases and deaths in the last three months. We are currently reporting an average of less 10 infections per 100 000 people compared to 648 cases per 100 000 people at the peak of the third wave,' the president said.
Although the country has been banned to international travel, he says that they as the government have also observed a gradual decline in hospitalizations across the country with an average of less than 10 patients at a time at Sir Ketumile Masire Teaching Hospital (SKMTH) and other health facilities countrywide.
In accordance with the international obligations, the President has explained that as a responsible member state under the International Health Regulations of 2005, they submitted the suspected new variant for the entire global scientific community to respond to this early finding. In
Although they have banned international travel, the President has confirmed that a lot of things in the country will continue being normal adding that vaccination certificate and negative Covid-19 tests should be prioritized and requested at gatherings.