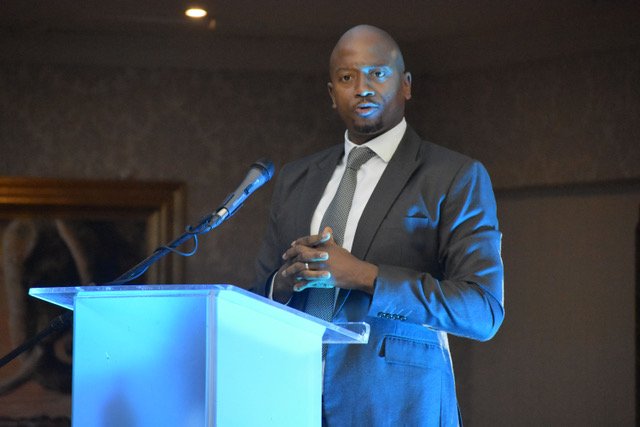 Today, Botswana Investment Professionals Society (BIPS), a non- profit society registered with the Botswana Registrar of Societies which is comprised of local investment management firms, was successfully launched.
Speaking at the launch BIPS Chairperson Tapologo Motshubi shared an ambitious agenda that touched on integrity, industry standards, and ethical sustainable long term goals. "Our mandate as BIPS is to promote high standards within the investment management industry through self- regulation and monitoring. It also encourages investment analysts, managers, and advisors to uphold the integrity of the industry. Additionally, it advocates for firms within the industry through the engagement of relevant stakeholders such as the Ministry of Finance and Economic Development, NBFIRA, Bank of Botswana, Botswana Stock Exchange (BSE), and other key stakeholders in the industry," said BIPS Chairperson.
Motshubi emphasized that the Society's strategy is to create an environment that fairly represents asset manager views to stakeholders on the consensus approach for improving the industry and upholding best industry practice and to educate the public on matters related to the asset management industry. The promotion of a sustainable, ethical, and trustworthy industry provides a long-term benefit to investors and our country at large.
Membership is currently available to registered asset management firms. The society currently has ten members. Individuals who are part of the management firms that have subscribed to the society are eligible to participate in the activities of the society including standing for elective positions. Membership is valid when subscription fees have been paid. Fees are paid once annually, in January at the start of the year.
When quizzed how the society is funded Motshubi said, "The society is funded through annual member subscriptions. Sponsorships may be sought on an ad-hoc basis and for events hosted by the society. The administration of the society is entrusted to an Executive Committee consisting of a chairperson, vice-chairperson, secretary, treasurer and two additional members. Members are elected at an annual general meeting of the society through a simple majority vote. They are elected for a two-year term and may seek re-election for another two-year term".
"The Ministry of Finance and Development Planning is therefore very pleased that an organization such as BIPS is present in our country and wish it well as it embarks upon its journey. 5. Given this essential role in directing savings and investment, having an industry body such as BIPS that is able to speak collectively on behalf of the fund management industry is vital. This helps ensure that our government, through its key financial sector organs such as the Ministry of Finance & Development Planning, Non-Banking Financial Institution Regulatory Authority ("NBFIRA"), Bank of Botswana, Botswana Stock Exchange and others have a central point of contact in articulating the objectives they have for our country, and how these marry with those of the fund management industry and its clients, the country's savers. This will help ensure that an enabling environment continues to develop that results in regulation that promotes safety and soundness of client assets, maintenance of high professional standards in the sector and the promotion of innovation that helps solve our country's challenges."