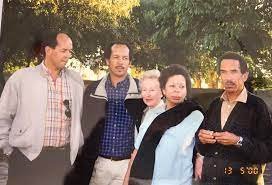 Authoritative sources close to the former president and some in the Ngwato royal family have revealed doubts over Ian Khama ever setting foot in Botswana as long as President Masisi remains in power. "He fears persecution and the DIS are just waiting for him so that they can pounce and arrest him. In a bid to embarrass him publicly," said one source.
Khama's only sister, the eldest daughter of Botswana's founding President Seretse Khama, was reported dead Tuesday this week. She died at 73 years old leaving behind three brothers, Ian, Tshekedi and Anthony, her two sons, as well as nephews, a niece and grandchildren.
Jacqueline's funeral arrangements are likely to be this weekend. But Khama and his other family members who have since fled to South Africa are not coming back to bury her. Khama announced last month that 13 members of his family have fled the country. This was after intensified efforts by the Masisi regime to get more answers and arrests on the former powerful family with regard to corruption that was allegedly done during Khama's regime.
Recently, Khama's younger brothers Tshekedi and Anthony were arrested over several charges before being released. This was after Tshekedi and his wife Thea were taken for interrogation by DISS over allegations of corruption by a company they owned which used to procure different things for BDF, Seleka Springs. Tshekedi is however seen in Botswana as he is also a Member of Parliament for Serowe West.
"He fears being arrested because he fled arrests and search warrants to South Africa. He fled; he is not visiting like he claimed. He said he will be back but he is still hiding that side," said one government official from Masisi's regime who is close to the developments of Khama's charges and fleeing.
Khama fled last year November amid a probe and arrests culminating from state owned firearms which are he allegedly held illegally or stolen. After defeating several attempts to have him searched, Khama fled to South Africa leaving the investigations ongoing. While in South Africa, he is facing 14 charges associated with possession or stealing of state owned ammunition. Khama faces such charges in cahoots with former head of DISS Issac Kgosi, suspended police commissoner Keabetswe Makgophe and Deputy Permanent Secretary Bruno Paledi. This quartet is expected to face Broadhurst Magistrates Court on 6 June.
This publication asked Khama's spokesperson and CEO of SKI Foundation, Mogomotsi Kaboyamodimo, whether Khama and other family members who fled South Africa will be coming for the funeral. He promised to make a statement regarding the issue and went quiet despite our several efforts to reach out to him.